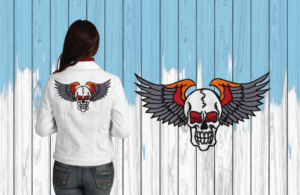 Epcot Digitizing provides a wide range of digitising services, including:
Vectorizing Bitmap images
Jacket Back Digitizing
Complex Digitizing
Embroidery Digitizing
Custom Embroidery Digitizing
Embroidery Digitized Designs
Jacket back digitising is a subset of embroidery digitising services that includes artwork and designs that have been specifically digitized to be stitched on the back of leather jackets.
Jacket back digitising is a highly sought-after artwork among creative and artistic people due to its exquisiteness and elusive nature. For the most authentic and artistic feel on jacket backs, we ensure the highest quality standards of our digitized files at Epcot Digesting.
A Digitization Service Worth Its Money!
Digitizing for jacket backs is a complicated process that requires extensive training and years of experience to fully master. It is a one-of-a-kind component that requires extreme concentration, skill, and mastery to execute flawlessly.
Only the most skilled and experienced technician can make precise stitches that meet the high standards required for jacket back designs. Vectorizing bitmap images for jacket back designs can involve as many as 40k to 150k stitches, and any mistakes will have an impact on the final design, especially if the design is stretched or contains more than 20% of the design.
That is one of the reasons we have spent so much money and handpicked digitizers to ensure high-quality custom embroidery digitising services.
Epcot Digitizing Exceeds Expectations!
Epcot Digitizing is well-known for our dedication to on-time delivery and exceptional embroidery digitising quality. Whatever the complexity of your digitising work, our skilled and talented custom embroidery digitizers are fully capable of delivering you exceptional quality digitized designs that will undoubtedly exceed your expectations.
Rest assured of your privacy!
We understand the sensitivity surrounding privacy and copyright issues, as well as the negative impact our negligence can have on our customers. That is one of the reasons we have remained committed to maintaining the highest standards of privacy and copyright protection for embroidered back jacket designs. We never, ever, ever share embroidery digitized designs with anyone.